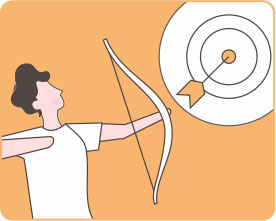 Step One:
Figure Out Your Purpose for Podcasting
We now have over 80 organizations who have started podcasting on Storyboard. I've had the chance to speak with many and learn about their ambitions.
Above all, the organizations that find the most success with audio have a clear understanding of what outcome they want to deliver through podcasting.
For some, they might not need a "private" podcast at at all -- which I define as any strategy that distributes audio shows to an exclusive, internal audience.For example, if my goal is to recruit new customers, I might not need a private podcast. In that instance, your podcast strategy would look very much like any podcaster who decides to start a show: find a host (like a Libsyn, Soundcloud, etc.), upload your content, and then distribute your show into the consumer apps like Apple or Google Podcasts.
If that's the right solution for your project, great! From here, I want to dive into a use case that has been less explored so far (and I think really should be): creating a podcast that only your internal audience can access.
Why have a private podcast?
For your audience (perhaps your team of 12 or a full Enterprise organization of 10,000), they likely range from somewhat to very familiar with listening to podcasts. I would argue that the advantages of podcasts lend themselves to team-focused communications, too. For instance:
Emails can be long and tedious. They also require me to drop whatever I am doing to look at the screen. What if these types of communications could be streamed instead, on my own terms (like on my commute into work)?
Town halls, large team gatherings, and the like can be tough to attend. We all have things to do, and this may mean missing these events that could drive team culture or success. Why not record them and allow those can't attend to be part of it through audio?
You generally don't know who is actually reading or hearing your communications. With podcasts, we can actually track engagement in some pretty rich ways, including seeing who started and stopped an episode.
For these reasons and many more, I think bringing audio to one's organization should be a norm across many industries. That said, the type of audio content you should be creating doesn't have to be standard -- our clients have come up with many creative ways to leverage podcasts.
Some of my favorite examples that I think are pretty compelling:
Organization Updates: These sound like mini-TED Talks or "Town Halls" where leadership has the chance to provide its own fireside chat
Staff Development: You have a remote team, but you have trainings that are key for your employees to do their jobs. Getting these trainings completed is hard -- make them a podcast, and give your team access to a feed to complete.
Replacing the "Long Email" or Team Meeting: Many smaller teams may have key touchpoints where they like to share updates. This can be disruptive, requiring meeting time that takes away from other priorities. Can this be reformatted into a more compelling medium, like a monthly podcast to the team?
There are quite a few others beyond this, but hopefully that make strike a chord. There's a theme though -- these types of podcasts could be very powerful for your team, but you wouldn't want to expose them on a normal podcast app. So what do you do?